The collection, inspired by the female artists and photographers who captured the 1930s fringe culture, explores a mood of high jinks on the brink of change. Daywear and eveningwear, formal and casual clothing, are juxtaposed and interwoven. Electricity is in the air - the febrile energy of abandon that comes in the calm before the storm.
Subverting Conventions
The Autumn Winter 2022 runway collection reflects a moment in time where boundaries were dissolved and conventions subverted. The collection embraces experimentation, as much as entertainment while liberally exploring notions of identity with silhouettes that embrace an electrified expression of femininity.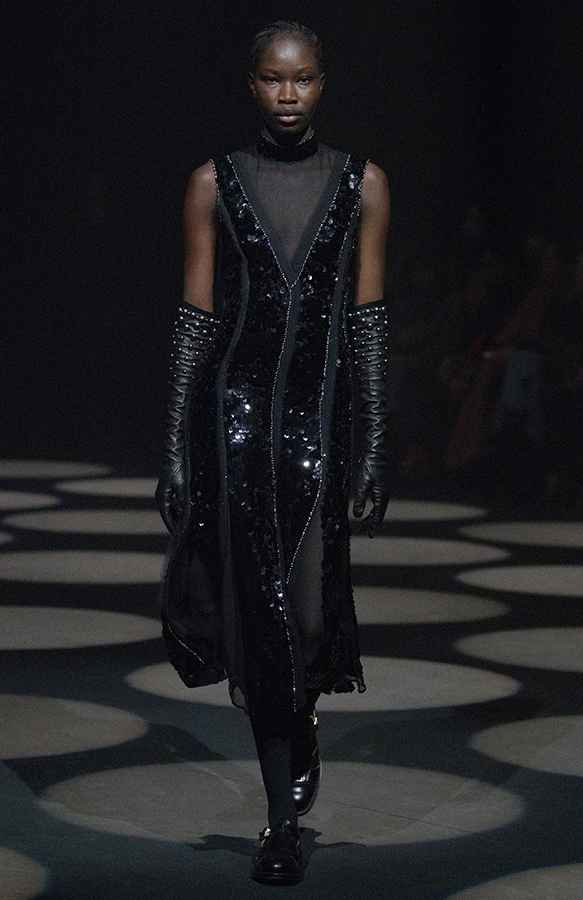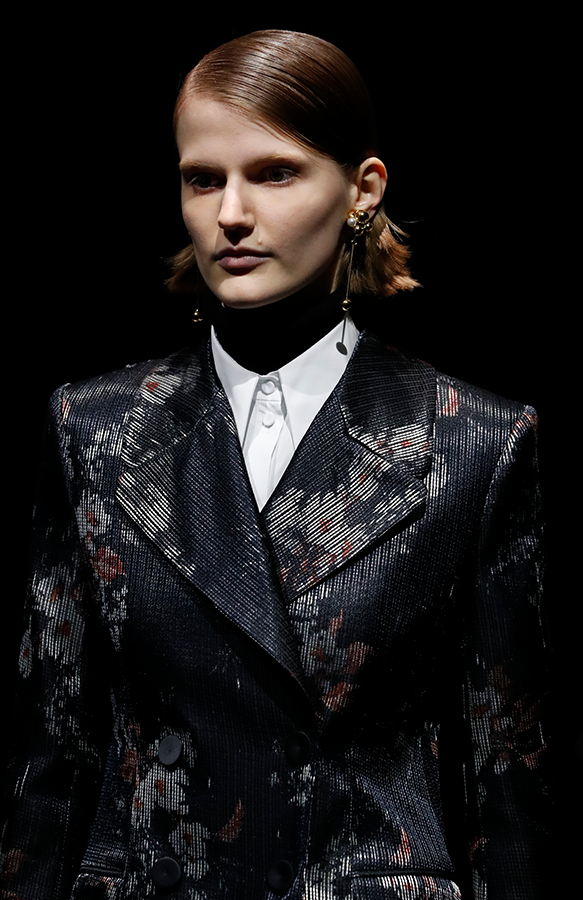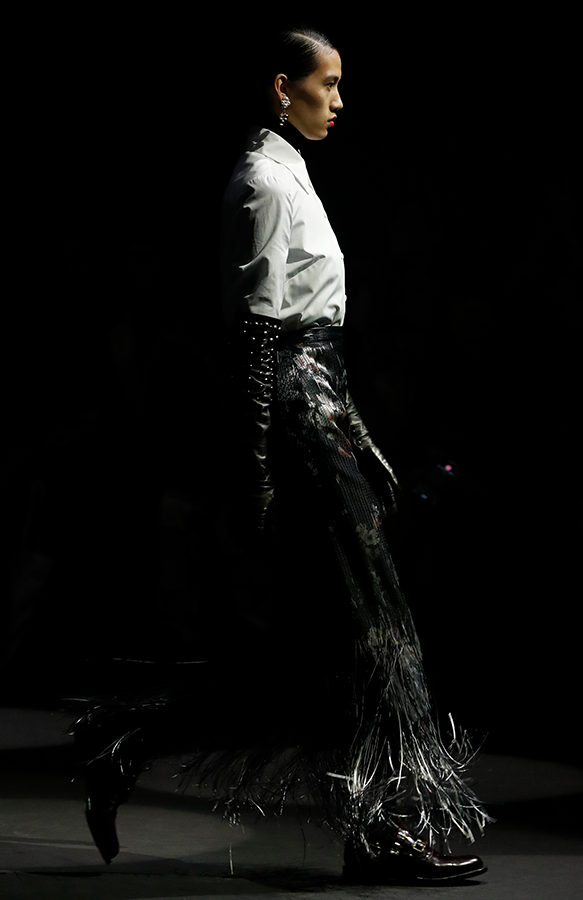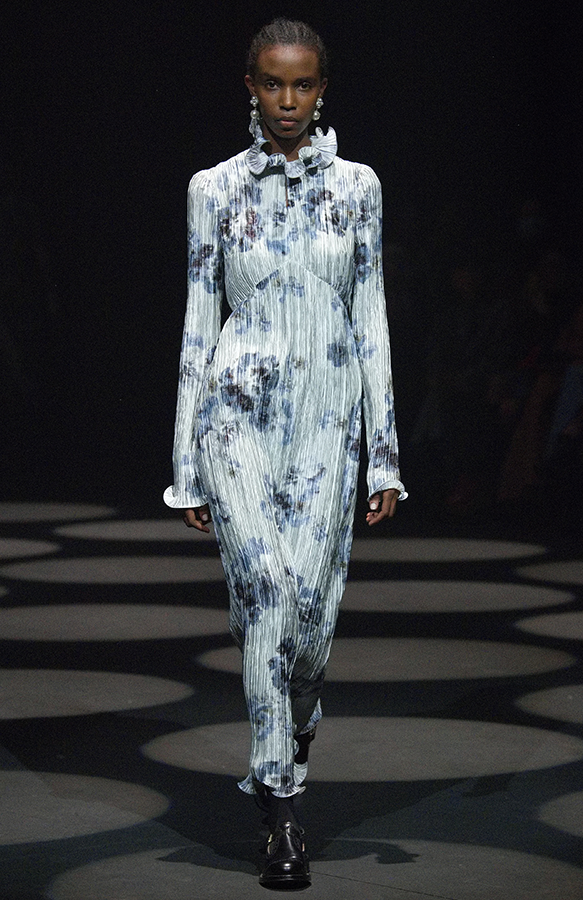 EXPLORE THE COLLECTION
Regular price

£2,795.00 GBP

Regular price

Sale price

£2,795.00 GBP

Unit price

per

Regular price

£2,495.00 GBP

Regular price

Sale price

£2,495.00 GBP

Unit price

per

Regular price

£2,195.00 GBP

Regular price

Sale price

£2,195.00 GBP

Unit price

per

Regular price

£2,895.00 GBP

Regular price

Sale price

£2,895.00 GBP

Unit price

per

Regular price

£895.00 GBP

Regular price

Sale price

£895.00 GBP

Unit price

per

Regular price

£1,495.00 GBP

Regular price

Sale price

£1,495.00 GBP

Unit price

per

Regular price

£295.00 GBP

Regular price

Sale price

£295.00 GBP

Unit price

per

Regular price

£2,695.00 GBP

Regular price

Sale price

£2,695.00 GBP

Unit price

per

Regular price

£1,995.00 GBP

Regular price

Sale price

£1,995.00 GBP

Unit price

per

Regular price

£2,850.00 GBP

Regular price

Sale price

£2,850.00 GBP

Unit price

per

Regular price

£1,655.00 GBP

Regular price

Sale price

£1,655.00 GBP

Unit price

per

Regular price

£835.00 GBP

Regular price

Sale price

£835.00 GBP

Unit price

per

Regular price

£1,995.00 GBP

Regular price

Sale price

£1,995.00 GBP

Unit price

per

Regular price

£1,495.00 GBP

Regular price

Sale price

£1,495.00 GBP

Unit price

per

Regular price

£2,495.00 GBP

Regular price

Sale price

£2,495.00 GBP

Unit price

per

Regular price

£1,495.00 GBP

Regular price

Sale price

£1,495.00 GBP

Unit price

per

Regular price

£625.00 GBP

Regular price

Sale price

£625.00 GBP

Unit price

per

Regular price

£865.00 GBP

Regular price

Sale price

£865.00 GBP

Unit price

per

Regular price

£3,290.00 GBP

Regular price

Sale price

£3,290.00 GBP

Unit price

per

Regular price

£765.00 GBP

Regular price

Sale price

£765.00 GBP

Unit price

per

Regular price

£935.00 GBP

Regular price

Sale price

£935.00 GBP

Unit price

per

Regular price

£1,245.00 GBP

Regular price

Sale price

£1,245.00 GBP

Unit price

per

Regular price

£295.00 GBP

Regular price

Sale price

£295.00 GBP

Unit price

per

Regular price

£1,495.00 GBP

Regular price

Sale price

£1,495.00 GBP

Unit price

per

Regular price

£325.00 GBP

Regular price

Sale price

£325.00 GBP

Unit price

per

Regular price

£635.00 GBP

Regular price

Sale price

£635.00 GBP

Unit price

per

Regular price

£735.00 GBP

Regular price

Sale price

£735.00 GBP

Unit price

per

Regular price

£1,545.00 GBP

Regular price

Sale price

£1,545.00 GBP

Unit price

per

Regular price

£1,095.00 GBP

Regular price

Sale price

£1,095.00 GBP

Unit price

per

Regular price

£1,395.00 GBP

Regular price

Sale price

£1,395.00 GBP

Unit price

per

Regular price

£895.00 GBP

Regular price

Sale price

£895.00 GBP

Unit price

per

Regular price

£1,175.00 GBP

Regular price

Sale price

£1,175.00 GBP

Unit price

per

Regular price

£735.00 GBP

Regular price

Sale price

£735.00 GBP

Unit price

per

Regular price

£1,245.00 GBP

Regular price

Sale price

£1,245.00 GBP

Unit price

per

Regular price

£765.00 GBP

Regular price

Sale price

£765.00 GBP

Unit price

per

Regular price

£1,795.00 GBP

Regular price

Sale price

£1,795.00 GBP

Unit price

per

Regular price

£375.00 GBP

Regular price

Sale price

£375.00 GBP

Unit price

per

Regular price

£715.00 GBP

Regular price

Sale price

£715.00 GBP

Unit price

per

Regular price

£355.00 GBP

Regular price

Sale price

£355.00 GBP

Unit price

per

Regular price

£675.00 GBP

Regular price

Sale price

£675.00 GBP

Unit price

per

Regular price

£635.00 GBP

Regular price

Sale price

£635.00 GBP

Unit price

per

Regular price

£645.00 GBP

Regular price

Sale price

£645.00 GBP

Unit price

per
---
Share This Article